Home is where the health is….
If you're like most Canadians, healthy cooking is extremely important and you're moving toward living a healthier lifestyle. Modern times are so fast-paced, it's important that we keep ourselves at the peak of good health in order to meet the challenges of daily life. Today we know a lot more about staying healthy than we did years ago.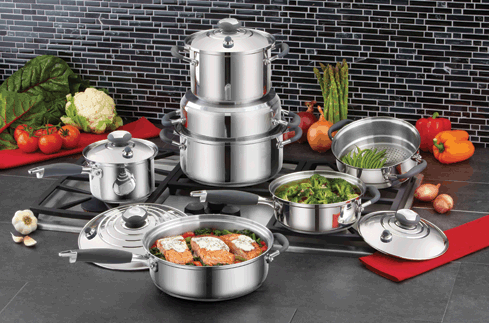 Kitchen Charm™ Cookware System
With Kitchen Charm™ cookware you can count on food that tastes naturally delicious and delivers top nutrition. And it's so easy. Let Kitchen Charm™ do the work, while you take the credit…and the compliments.

Engineered for healthy meals
The Kitchen Charm™ cookware is designed to cook fresh and frozen vegetables (and some fruits) with very little added water–just about 1 ounce of water per quart. (Use 2 ounces in a 2-quart saucepan, 4 ounces in a 4-quart saucepan, etc.). This method greatly reduces the loss of nutrients that occurs in other cooking methods…and the vegetables taste great!
How it works:
Vegetables and fruits contain 70%-95% water – enough to cook them provided the heat is controlled and the moisture is retained inside the pan. Begin cooking waterless vegetables at medium with the Redi-Temp™ valve open.
The iCore construction of the Kitchen Charm™ cookware provides even heat distribution. This allows the vegetables on top to cook just as well as those on the bottom – without the need for boiling water to distribute the heat.
The Redi-Temp™ valve signals when the proper cooking temperature is reached (approximately 180º F). This temperature is sufficient to kill germs and bacteria, which may be on the food, but does not destroy the heat-sensitive nutrients.
Once the Redi-Temp™ valve starts to whistle, close the valve and reduce the heat to low for large vegetables like potatoes and corn on the cob. Turn off the heat if you are cooking smaller or leafy vegetables like peas, sliced carrots, broccoli or cabbage.